Map of Folly Beach
---
Click on the orange areas below for more information.
Hover over areas of the map and click for more information.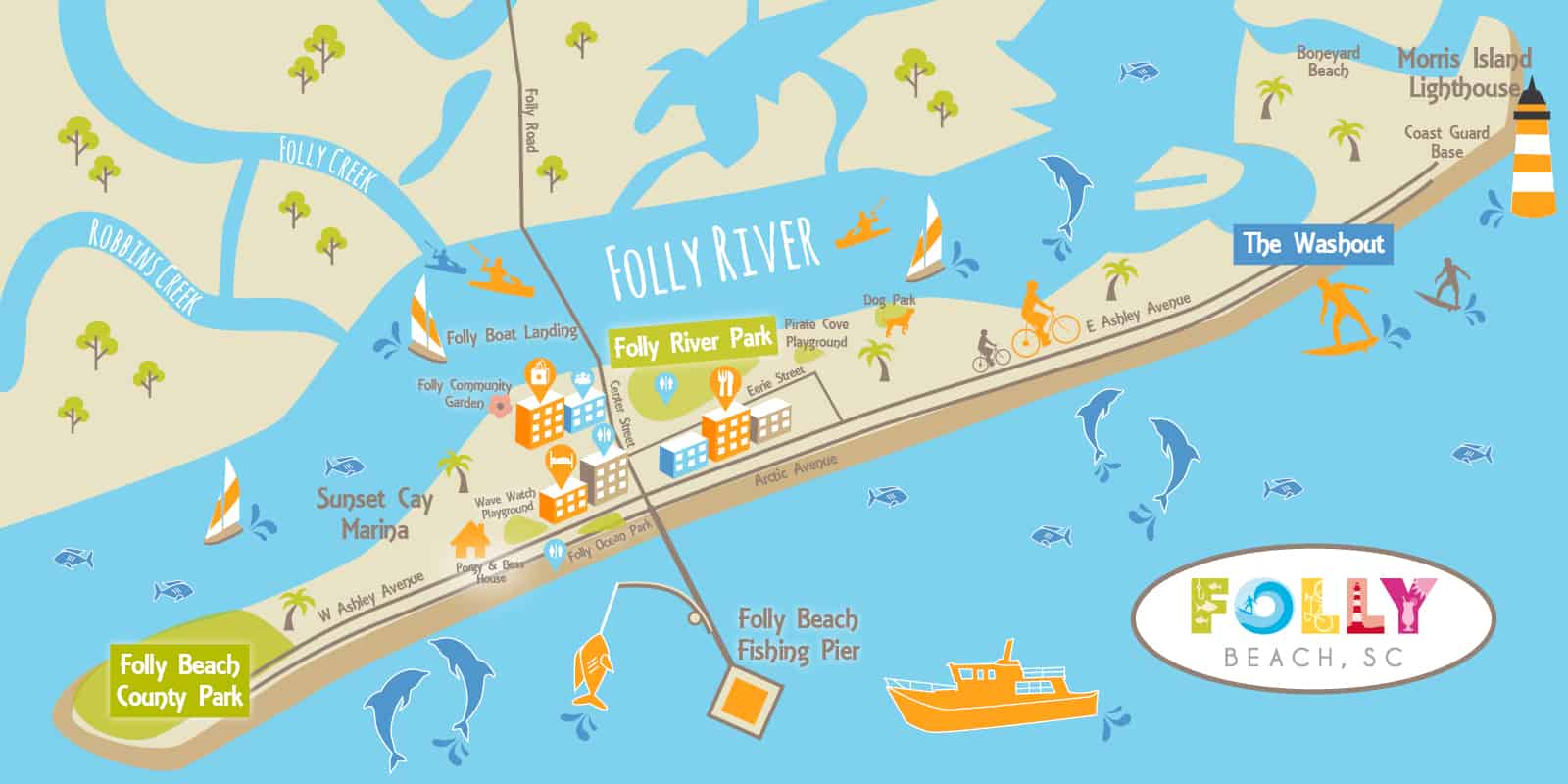 THE PIER
Fishing, walking, birding, and the opportunity to enjoy breathtaking views of the "Edge of America" are just some of the possibilities at the Edwin S. Taylor Folly Beach Fishing Pier.
WATER SPORTS
A trip to Folly Beach isn't complete without venturing out on the water.
FISHING
Folly Beach offers all the variety a fisherman could want. Enjoy bountiful surf fishing, river fishing, pier fishing and deep-sea sport fishing year-round due to the Lowcountry's mild temperatures.
SURFING
Folly Beach is one of the premiere surfing destinations on the East Coast.
FOLLY RIVER PARK
The River Park includes a community dock for residents and visitors to fish, crab and enjoy marsh vistas and breathtaking sunsets. A great venue for large group events and weddings, it provides a covered stage area, swings, bathrooms and walkways throughout the park area.
WHERE TO STAY
Whether you're looking for a hotel with an unbelievable view or a beach house where you can hang out - Folly Beach has what you're looking for.
SHOPPING
Take a break from the beach and stroll down Center Street for some Folly Beach shopping.
EXPLORE THE ISLAND
When you're looking for a little on-land adventure, rent a bicycle and cruise the island.
ECO-TOURS
Explore the natural beauty of Folly Beach through a variety of sightseeing tours and excursions available both on land and on water.
ECO-TOURS & EXCURSIONS
Explore the natural beauty of Folly Beach through a variety of sightseeing tours and excursions available both on land and on water.
FOLLY BOAT LANDING
The Folly boat landing provides boaters with their only public access to the Folly River.  Access and parking are free of charge. 
RESTROOMS
Public restrooms are conveniently located near the Folly Beach Pier and at Folly Beach Park.
MORRIS ISLAND
The Morris Island Lighthouse was built in 1872 and is most notable for its slight NE lean, which is believed to have been the result of the earthquake of 1886. Non-profit organization Save the Light, Inc. manages the general upkeep and preservation of the lighthouse through continued fundraising and awareness campaigns. The lighthouse can be accessed via the Morris Island Inlet at the end of East Ashley Avenue, or via the beach.
WHERE TO EAT
As casual as the vibe is on Folly, you'll find that we are serious about our food. From fresh seafood & local oysters to big juicy steaks; traditional southern and American fare to sushi, Mexican and Mediterranean; breakfast, lunch, dinner and late night, we're sure to satisfy your appetite.
FOLLY BEACH COUNTY PARK
The Folly Beach County Park provides a guarded swimming area open to the general public. Concessions, picnic area, restrooms and outdoor showers. Boogie boards, bicycles, umbrellas, and chair rentals are available between Labor Day and Memorial Day. Lifeguards are on duty during the summer season.
WAVE WATCH PLAYGROUND
Wave Watch Playground is located at the end of West Cooper Avenue on Folly Beach. The playground is completely enclosed with an abundance of swings, see-saws, slides and more. There is also a covered gazebo perfect for birthday parties and small gatherings, and a "Little Library" (free book share) just outside of the entrance. 
FOLLY BEACH OCEAN PARK
The Folly Beach Ocean Park is located at the end of West Arctic Avenue and houses restroom and shower facilities that are free and open to the public. The restrooms are currently only open during the summer. 
FOLLY BEACH COMMUNITY GARDEN
The Folly Beach Community Garden was established in 2015 by The Folly Green Team. The garden consists of sixteen 4x8 foot raised beds to be used to grow vegetables, herbs and flowers.
FOLLY BEACH COMMUNITY CENTER
The Folly Beach Community Center is home to the Folly Beach Library and offers free wifi, printing and scanning services, as well as individual computers open to the public. Current hours of operation are Monday and Friday: 10 a.m.-6 p.m., Wednesday: 12-8 p.m. and the 2nd Saturday of every month: 10 a.m.-2 p.m.
THE WASHOUT
The Washout is the best area for surfing on Folly; so named after Hurricane Hugo "washed out" several homes creating unobstructed wind flow that is perfect for surfing.
The Washout walkover provides beach goers (specifically surfers) access to the ocean past 12th block. The access houses a bulletin board for community notices as well as an ATM.
PORGY & BESS HOUSE
While staying in Folly Beach – George Gershwin penned Porgy & Bess; he also found time to judge a beauty contest.
PIRATE'S COVE PLAYGROUND
Pirate's Cove Playground is located on the 5th block east between Erie and Hudson. Themed for Folly with pirates, boats and the lighthouse slide, families can enjoy a basketball court, skate park, tennis court and playground area including a rope-webbed jungle gym and the toddlers shrimp boat.
SHORE BIRD PARK
Shore Bird Park was added in 2015 to draw attention to the local shorebird population. The park consists of a circular gravel area with two benches and a sign indicating the historical significance of the Shorebird. The park is open until sundown and is free to the public.
DOG PARK
Bring Fido to Folly! The park is open to all dogs registered with the City of Folly Beach. Find out how to register here.
*Water bottle refill stations are located at Folly Ocean Park, Wave Watch Playground, Folly Beach Community Garden and the covered Washout at 1550 East Ashley Avenue.